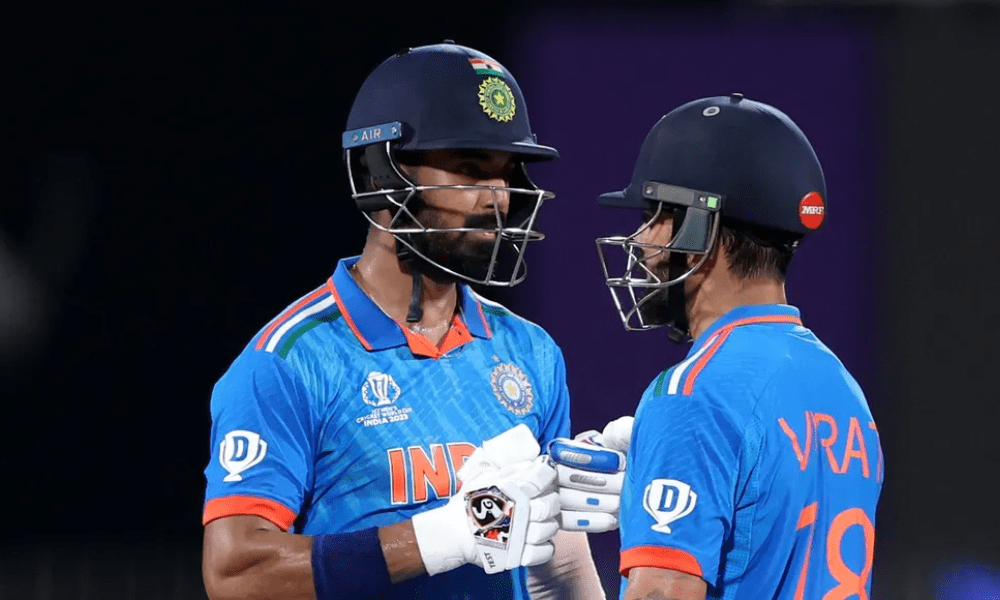 India vs Australia, Cricket World Cup 2023 Highlights: India started its first match of Cricket World Cup 2023 with a win against Australia. Australia won the target of 199 with six wickets remaining in the 42nd over. For India, KL Rahul missed his half-century i.e. played an unbeaten inning of 97 runs, and Virat Kohli who scored 85 runs. They made a partnership of 165 runs. The Indian team had a weak start and three players Rohit Sharma, Ishan Kishan and Shreyas Iyer were out without scoring runs.
Australia won the toss and decided to bat first at the MA Chidambaram Stadium in Chennai. Ishan Kishan replaced Shubman Gill in the Indian playing eleven.
Despite losing the toss, India's bowlers performed well and gave a tough challenge to the Australian batsmen, but the Australian batsmen were seen struggling.
For Australia, David Warner and Steve Smith scored 41 and 46 runs respectively. Indian bowlers have to be praised. Who all out the Australian batsmen for 199 runs in the 50th over.
For India, successful bowler Ravindra Jadeja took 3 wickets, while Jasprit Bumrah and Kuldeep Yadav took 2 wickets each. Ravichandran Ashwin, Hardik Pandya and Mohammed Siraj also took one wicket each.
India Vs Australia, Scorecard
AUS 199 (49.3)
IND 201/4 (41.2)
India won by 6 wkts
KL Rahul awarded man of the match.
Australia Innings
| Batter | Wickets | R | B | 4s | 6s | SR |
| --- | --- | --- | --- | --- | --- | --- |
| David Warner | c and b Kuldeep Yadav | 41 | 52 | 6 | 0 | 78.85 |
| Mitchell Marsh | c Kohli b Bumrah | 0 | 6 | 0 | 0 | 0.00 |
| Steven Smith | b Ravindra Jadeja | 46 | 71 | 5 | 0 | 64.79 |
| Marnus Labuschagne | c Rahul b Ravindra Jadeja | 27 | 41 | 1 | 0 | 65.85 |
| Glenn Maxwell | b Kuldeep Yadav | 15 | 25 | 1 | 0 | 60.00 |
| Alex Carey (wk) | lbw b Ravindra Jadeja | 0 | 2 | 0 | 0 | 0.00 |
| Cameron Green | c Hardik Pandya b Ashwin | 8 | 20 | 0 | 0 | 40.00 |
| Pat Cummins (c) | c Shreyas Iyer b Bumrah | 15 | 24 | 1 | 0 | 62.50 |
| Mitchell Starc | c Shreyas Iyer b Siraj | 28 | 35 | 2 | 1 | 80.00 |
| Adam Zampa | c Kohli b Hardik Pandya | 6 | 20 | 0 | 0 | 30.00 |
| Josh Hazlewood | not out | 1 | 0 | 0 | 0 | 100.00 |
India Innings
| Batter | Wicket | Runs | Balls | 4s | 6s | Strike Rate |
| --- | --- | --- | --- | --- | --- | --- |
| Rohit Sharma (c) | lbw b Hazlewood | 0 | 6 | 0 | 0 | 0.00 |
| Ishan Kishan | c green b Starc | 0 | 1 | 0 | 0 | 0.00 |
| Virat Kohli (c) | c Labuschagne b Hazlewood | 85 | 116 | 6 | 0 | 73.28 |
| Shreyas Iyer | c Warner b Hazlewood | 0 | 3 | 0 | 0 | 0.00 |
| KL Rahul (wk) | not out | 97* | 115 | 8 | 2 | 84.35 |
| Hardik Pandya | not out | 11* | 8 | 0 | 1 | 137.50 |